Considering my building is about 100 years old, I'm mad at a dead person. And I stand by it.
But seriously, this elevator is terrifying. Paint peeling, rickety movements, eerily slamming doors, uncomfortably small; I'd say there's a good chance a ghost haunts it, too.
Worst of all, it's the only way to reach the basement level, which houses the laundry machines.
The basement…how do I put this… I'm pretty sure Hollywood has used or replicated this basement for the part in horror films where the murderer stabs you with a low-bearing pipe.
That's this basement. And its entryway, the elevator, is the box you step in moments before realizing you've made a huge mistake by going to the basement floor. Might as well be Outlast, you guys.
Of course, I can't not do laundry, so I suck it up every so often and do the worst household chore. Yep, I'm calling it. Laundry is the worst.
Around 10:30pm the last time I did laundry, one of my greatest fears happened.
There are two individual doors to this elevator: one outer and one inner. The outer door must be completely shut for the inner door to also close. The basement outer door occasionally sticks before closing, but it's never been an issue.
Except now. The doors shut. The elevator didn't move.
I was stuck on the basement floor. In the elevator. Alone. At night. Without my phone.
There's something you should know about me: I'm a little claustrophobic. It doesn't come up often and I'm normally fine, but this was like unraveling the end of  a spool of yarn and letting it fly down a flight of stairs.
So it took everything in my power to suppress this reaction:
"Calm down," I told myself out loud as my breathing started quickening. You know the unraveling has begun when you're talking to yourself, and this started up about five seconds of being shut in.
I tried pressing my floor button several times, then any button. Nothing moved. I saw the one marked ALARM and wanted to do everything possible before hitting it. I did, however, use its existence to calm myself down. "See, you can hit the alarm," I said, this time in my head.
But once I realized it could be a long time before anyone gets me even if I hit the alarm, I started to panic again. I was suddenly hyperaware of my body. "Was I this hot before? Why am I so thirsty? If I don't drink something now, I might faint of dehydration," the thoughts tumbled through my head.
Without thinking, I slammed my hand against the elevator door in the hopes that someone, anyone, might hear the sound. I hoped to bypass screaming, but wasn't sure how much longer I could rein in the claustrophobia. I hit it harder than I intended, and my hand instantly smarted in pain.
But, to my utter disbelief, the elevator began creaking upward. My smack had somehow dislodged whatever slight incongruity there had been to the outer door.
The doors croaked open to the first floor. I remembered dizzily that I had hit every button on the elevator, so naturally, it would stop here first. Not caring about getting back to my own floor, the sixth, I tumbled unceremoniously out the doors and onto the lobby floor, dragging my laundry bag behind me.
I was so relieved and equally mortified that my initial reaction upon hitting the ground was something like this: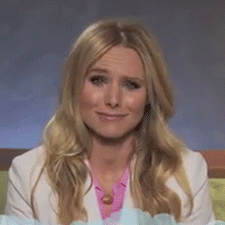 I swear, I almost fainted. The lobby was empty, and I let myself stay until I had my breathing under control. I climbed the six flights to my apartment rather than be in the terrifying elevator again.
So yeah, you could make the argument I lived through my very own horror story. Dibs on screenplay rights!
BRB, crying. (Not really.)
… A little.
And that's why Whoever Designed my Terrifying Building Elevator was my least favorite person of the day.
—